In the COVID-19 era, the healthcare industry has been facing unprecedented challenges. In the ambulatory care setting, this is true for physician practices across the spectrum of care—including those providing nonelective specialty care for chronic illnesses.
While some of that care may be conducted remotely, there are times when patients still require an in-person visit—and they need to feel safe from exposure to the coronavirus when they do. If their current provider isn't able to provide that sense of security, they may be looking for another specialist who can.
The challenge for your practice is to find these patients who need you—and then market your offerings in such a way that attracts them to your door. The good news is that the following strategies enabled through AMG's Patient Precision can help you do just that.
Find the prospects who need you.
The first step to reaching the prospects who need you is finding them within your local market. Since AMG owns the largest healthcare audience in Alabama through our online sites and publications, we can uniquely reach specialty practice prospects. For instance, take a look at our specialty-specific reach within the Huntsville area: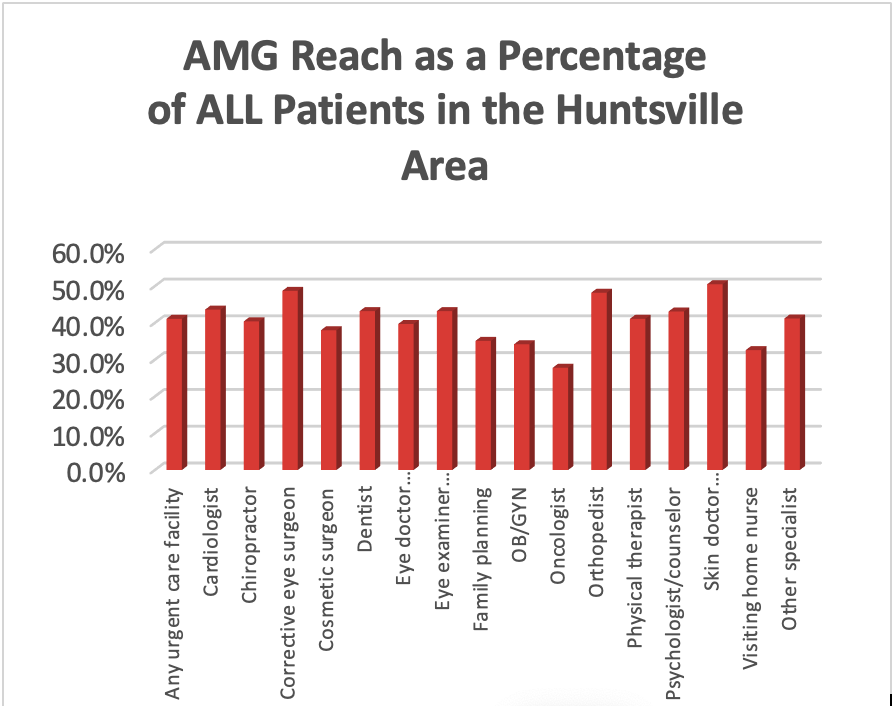 *Market/Release: Birmingham, AL 2019 Release 2 Total (Jul 2018 – Sep 2019) Birmingham News (CUME), Birmingham magazine (6 Month CUME) and AL.com past 30 days non-duplicated audience, Medical services receive last 3 years or specialist seen last 12 months)
Even more, with our extensive media offerings, we're able to outperform our competitors when it comes to reaching patients in your area who are searching for providers with your specific expertise.


How is all of this possible? That's where Patient Precision comes in.
Apply Patient Precision to your marketing efforts.
Patient Precision is our targeting capability developed with first party, HIPAA-compliant data. Through this methodology, we can reach patients and caregivers by symptom, diagnosis, prescription, payer, or procedure.
Once Patient Precision has gathered the disease-specific demographics and needs of your local area, you can use the results to inform your digital marketing strategy. In this way, you can make better marketing decisions—like how to segment your customers and prospects into distinct groups and align with their preferred channels.
Even better, you can craft specific digital messages, ads, and offers to create a targeted marketing strategy that will outperform a hit-and-miss approach. Methods of doing so may include strategies such as digital display advertising, search engine marketing, and content marketing/social media advertising.
In our digital marketing case study, we provide an example of using data-driven marketing through our work with Alabama Orthopedic Surgeons (AOS). The campaign we created helped AOS connect with prospects through targeted social and digital networks—garnering outstanding results.
Partner wisely to make the most of your efforts.
At AMG Healthcare Marketing, we're experts in specialty practice marketing. With our unique insights into the local patient market, we can provide digital marketing solutions that will optimize your efforts. Through our offerings, we can help your practice:
Tell your story from a local perspective.
Reach more patients through AL.com—which is Alabama's largest and most trusted local news source.
Increase performance—through the use of digital ads and sponsored content on AL.com, which drives better results than digital network advertising.
Tightly target relevant audiences using HIPAA-compliant data specific to population health.
If you'd like to learn more about how we can help your practice, let's talk.
https://www.amgrecruitment.com/wp-content/uploads/2020/06/iStock-1182464970-scaled.jpg
1707
2560
Sara Dyer
https://www.amgrecruitment.com/wp-content/uploads/2023/01/AMG_recruitment_reverse-300x136.png
Sara Dyer
2020-06-16 15:34:15
2021-07-01 19:07:10
Drive Higher ROI during COVID-19 with Patient Precision Targeting