The nursing profession may be one of the most difficult and varied in the medical field. National surveys have shown that nursing can be both a physically grueling and mentally stressful job that literally has life and death consequences no matter the level of licensure or area of care.
We surveyed nearly 1,500 nurses in the Southeast states of Alabama, Mississippi, Tennessee, Georgia and northern Florida to help us understand what nurses most value in an employer, what's making them want to leave, and what got them into the profession to begin with.
So, why do nurses choose nursing? Hint: it's not for the money.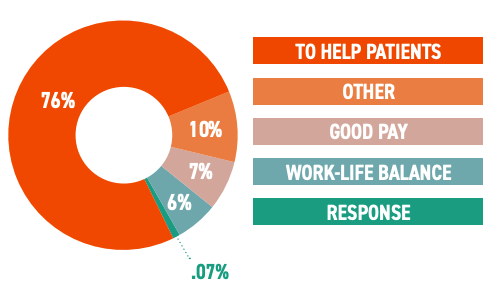 Most of the survey respondents say they got into the profession to help patients. More than helping people, many of the "other" category listed personal reasons like "nursing is a higher calling for me." Several recalled situations in caring for family members that were ill or being inspired by relatives working as nurses.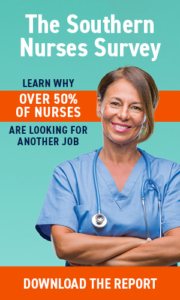 Employers would do well to recognize and celebrate these altruistic sentiments that drive their nurses.
Every year the demand for nurses grows as more retire. People are living longer, increasing the demand even more. No matter what solutions anyone proposes, finding quality nurses that fit your company's culture will be a struggle for the foreseen future. But how hard you work to attract, recruit, hire and retain these nurses is something that we can help with. You need candidates that are looking for you, filling out your application and calling to talk to your recruiters. And that's our specialty. Want to know more about our nursing recruitment services? Let's talk.
https://www.amgrecruitment.com/wp-content/uploads/2020/03/iStock-1147976485.jpg
3574
5360
Sara Dyer
https://www.amgrecruitment.com/wp-content/uploads/2023/01/AMG_recruitment_reverse-300x136.png
Sara Dyer
2020-03-10 16:44:52
2020-03-10 16:44:52
Why Nurses Become Nurses