We've discovered a powerful trend flowing through the advertising waters.
National brands that rely on local dealer brick and mortar stores to showcase and sell their products have unknowingly left a gap in their advertising strategy that someone can cruise a yacht through with ease (not to mention dashing style).
These large retailers who once felt supported by their corporate office's traditional advertising are now scrambling to understand how to better compete online by increasing engagement with a more tech savvy consumer. Caused by a shift in consumer buying behavior, this influx of multi-platform web users has created a much more educated and mobile consumer. Internal competition and cannibalization has increased, along with this influx in consumer behavior and runs rampant across industries where online promotions are provided at the corporate level, but no attention is paid to personalization or customization at the local level, i.e. auto, motorcycle and boat dealers.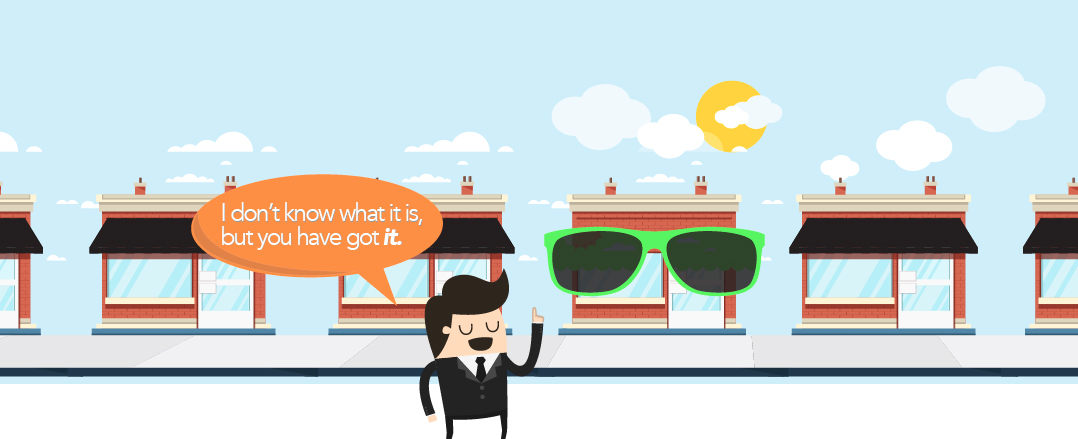 Businesses need to differentiate themselves more than ever.
So now we have many local dealerships that are entering the online marketplace without a clear playbook for success (if they enter the space at all). With so many choices in the digital space, what's a business to do?
That's where we come in as the local marketing expert with national reach.
For example, let's take a dive with MarineMax, a national retailer of high quality yachts and sports boats with a brick and mortar location in Gulf Shores, AL.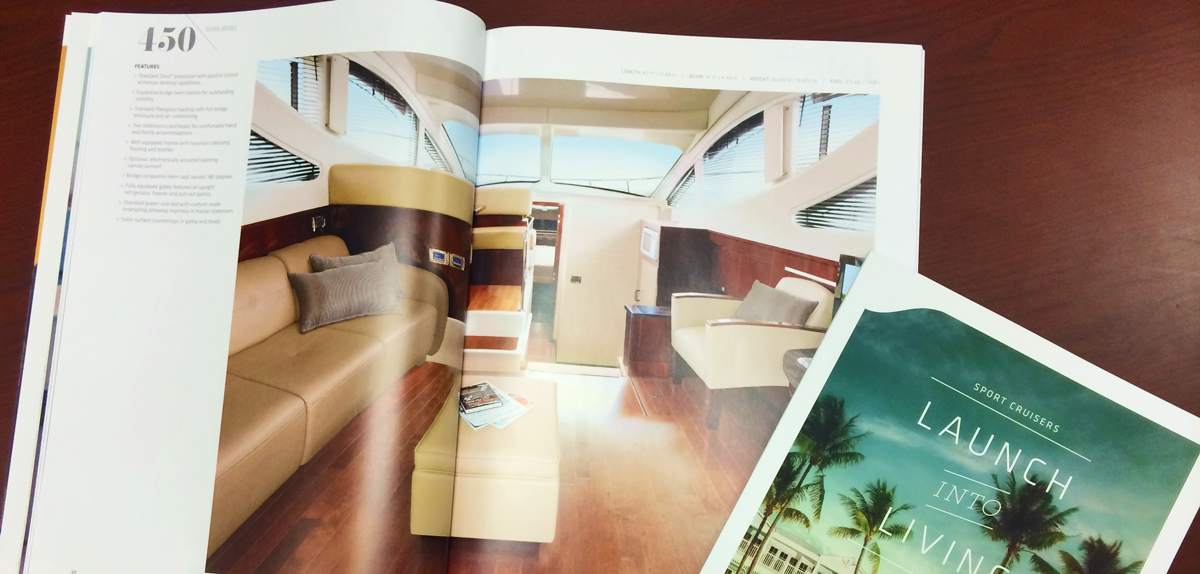 Beautiful work.
The National Brand has a beautifully crafted advertising campaign that highlights the luxurious and relaxing lifestyle that comes with owning a yacht. Marine Max showcases their products for potential buyers through an impressive website, with each location having their own sub-domain of the corporate website and SEO baked into the mix. Marine Max's web presence is complimented with a beautiful collection of print collateral for direct mail and walk-in prospects and a handful of direct marketing events geared toward fishing and watersports. If I was looking to engage with MarineMax through search, I most certainly would be routed into their funnel.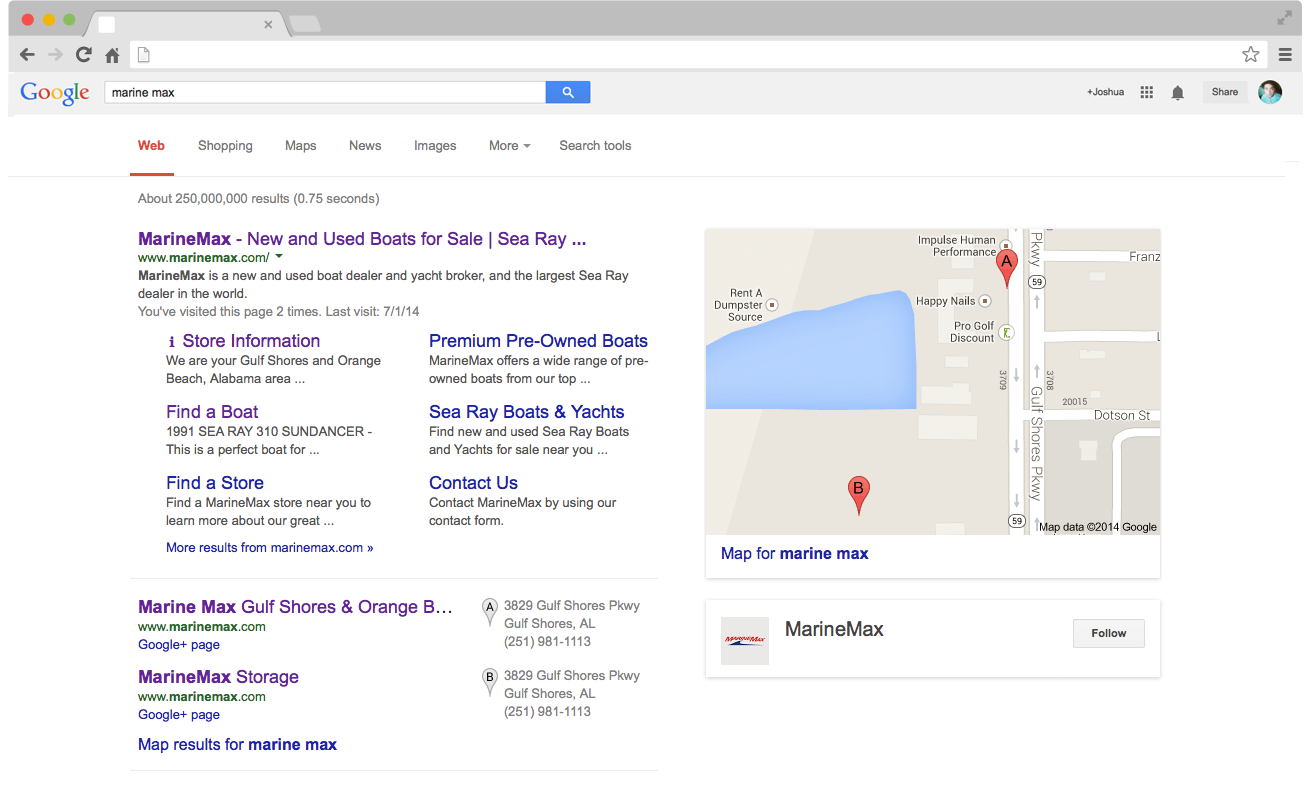 Easy to find if I knew where to look.
What if I didn't know what I was missing when it comes to cruising the open seas? What if I was searching generally for a yacht or sport boat for my weekend adventures? The marketing gap was becoming crystal clear.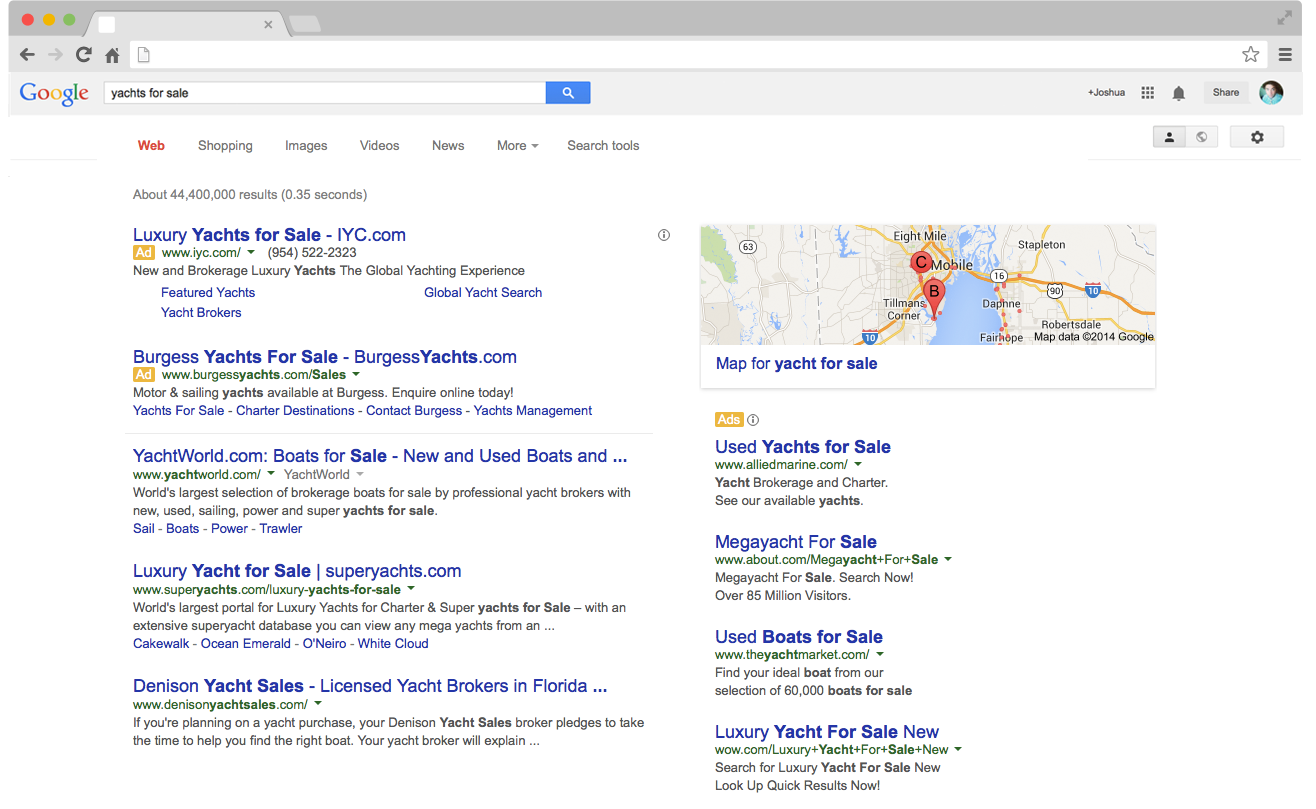 We need to be there when someone calls.
Our client had two pain points for us to solve.
How do we create awareness for the business by creating a local brand identity for Marine Max Gulf Shores and promoting them as the local champion?
How do we catch potential buyers who live in Birmingham or Huntsville, AL, over 200 miles away, who are actively searching for a solution to their boating adventures and direct them to their specific location?
Time to get started.
Branding
First, we built a display campaign to generate awareness for the business by targeting an audience with interest in boating and running an additional campaign targeting high-income intenders for the yacht segment. This way, we are confident that we are reaching the right people at the right time. Now that we have the right audience, it's time to send the right message.
Since we are working to differentiate our client from both other marinas and other Marine Max locations, we need a message that communicates why this particular location is the leader in region. I'm not just looking for a place to have a one-time transactional relationship; I'm looking for a local business to support and continue to be involved with my new product in a service + storage + event capacity. The sale is just the beginning.
We wanted to build a new identity that pushed the national brand to the next level while showcasing their involvement in the community. They needed to be more than a business, they were a lifestyle. We needed proof that a dealership could push the envelope of the national brand and successfully create a local brand image of their own. So we researched other Marine Max locations for inspiration, and Tempe, AZ was our beacon of light.

Sometimes we have to live the pirate life.
The Tempe, AZ MarineMax case study (
via the Chicago based DRT Agency
) gave us a glimpse of how a brick and mortar location was able to successfully bridge the gap between the corporate office national promotions and competition for resources and revenue at the local level.
So now we build Marine Max Gulf Shores.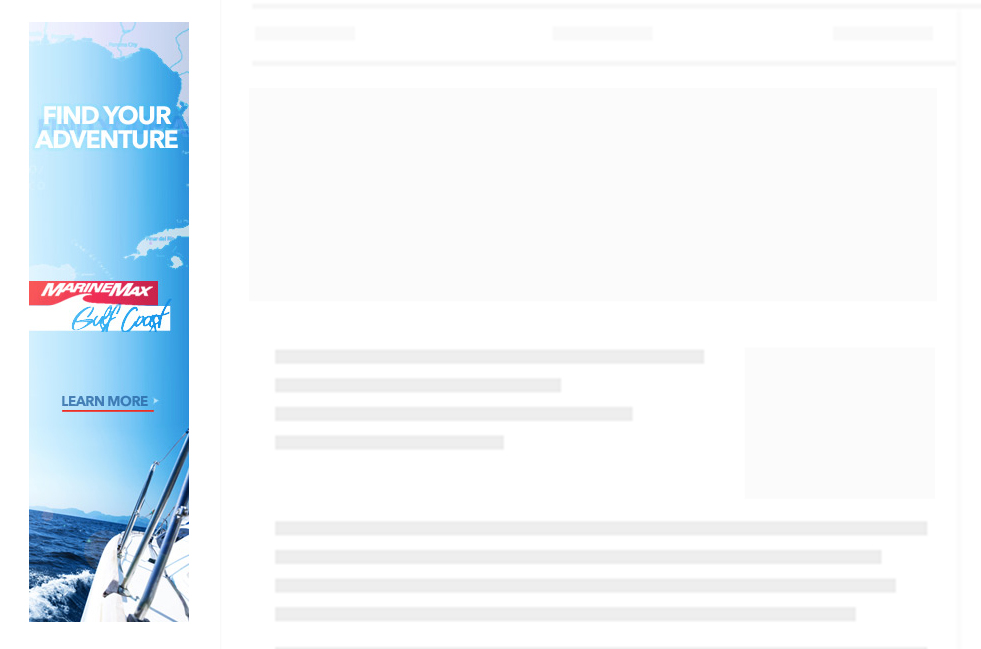 —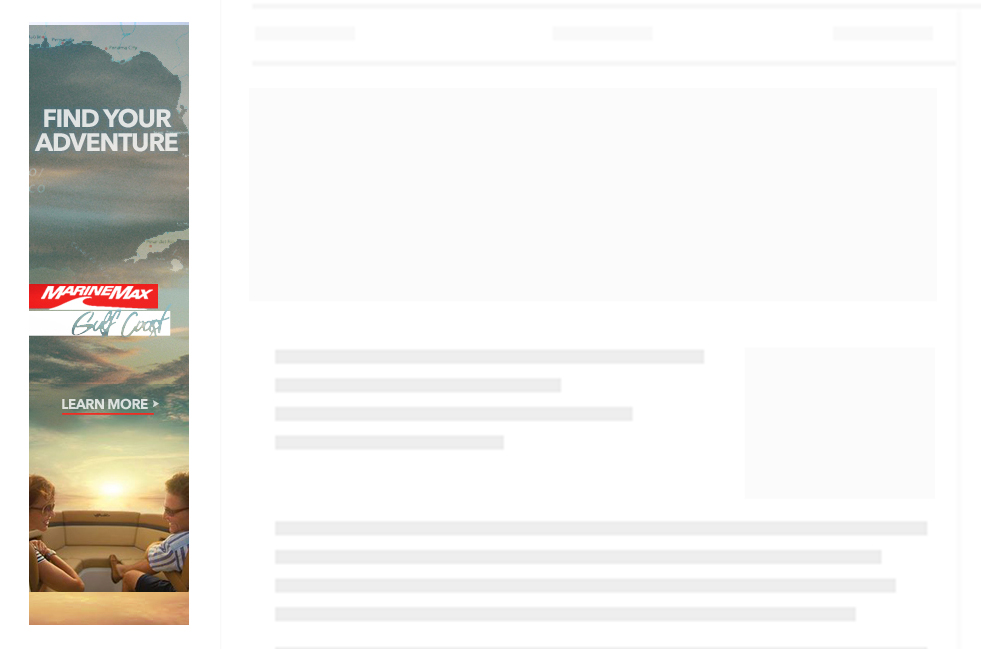 —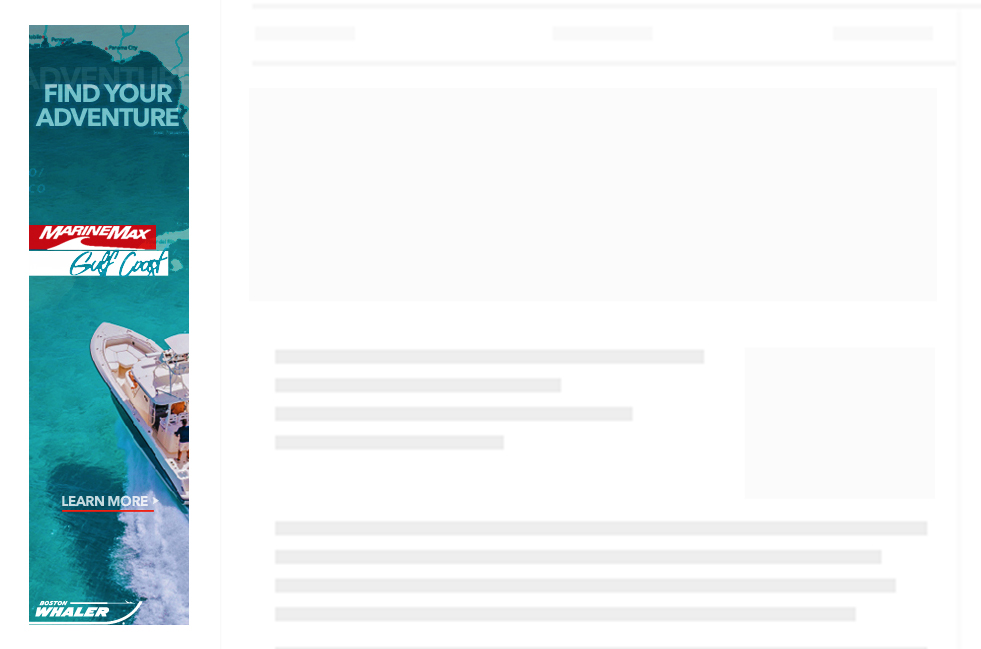 —
Search Engine Marketing (SEM)
With our branding and awareness campaign running 500 knots across both al.com and our extended networks, we then needed to ensure we were reeling in the audience actively searching for their new adventures on the open seas. By focusing on both general keywords (including boat sales, new boats, boat dealers, etc.) and searches for specific inventory, MarineMax Gulf Shores would be there when their audience needed them the most.
The Landing Ramp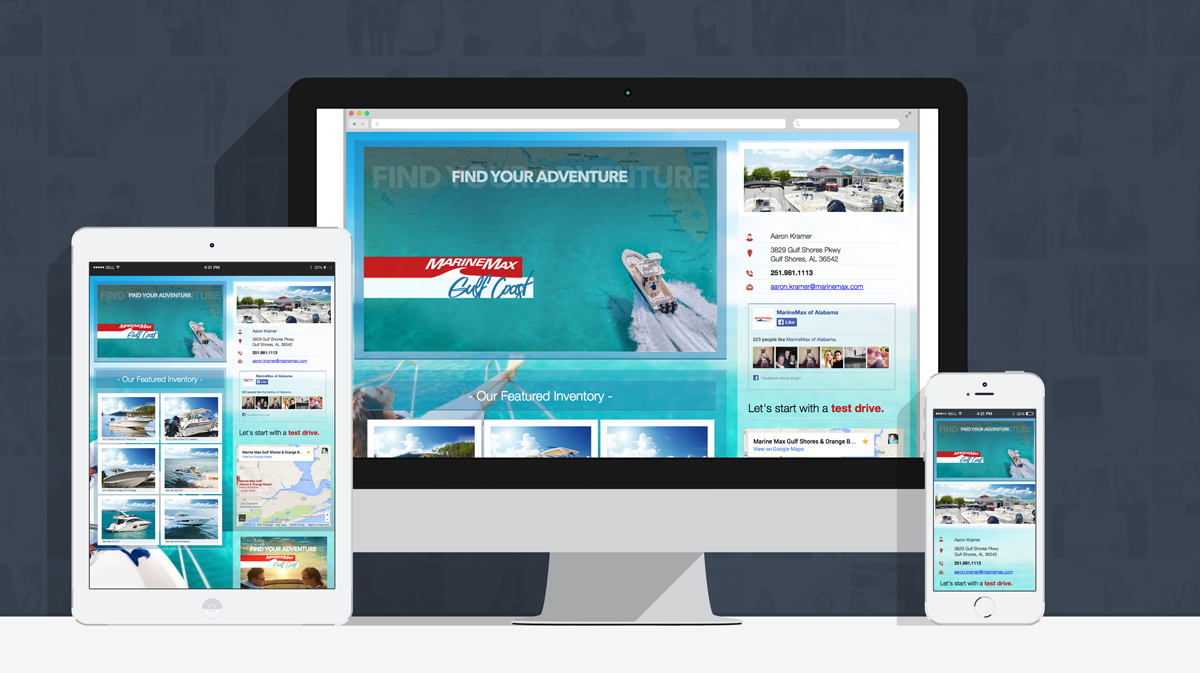 Responsive design is like water, transforming to fit any container.
With our layered campaigns driving interest via display ads and search, we built a custom landing page to catch all the traffic coming in from our advertising efforts. This way the audience could dock in a beautiful cross platform experience that not only continued to showcase the MarineMax Gulf Shores location as the premier leader in the area. The result would be an increase in their online visibility and a significant decrease in the likelihood of cannibalization by one of their sister store locations.
And one week into our campaign..
Our search engine marketing campaign has not only driven an overwhelming number of clicks to the landing page, we have also generated several phone calls to the dealership.
Combined with the success of the display campaign traffic, the landing page has experienced healthy growth and continues to climb in visitors as we optimize.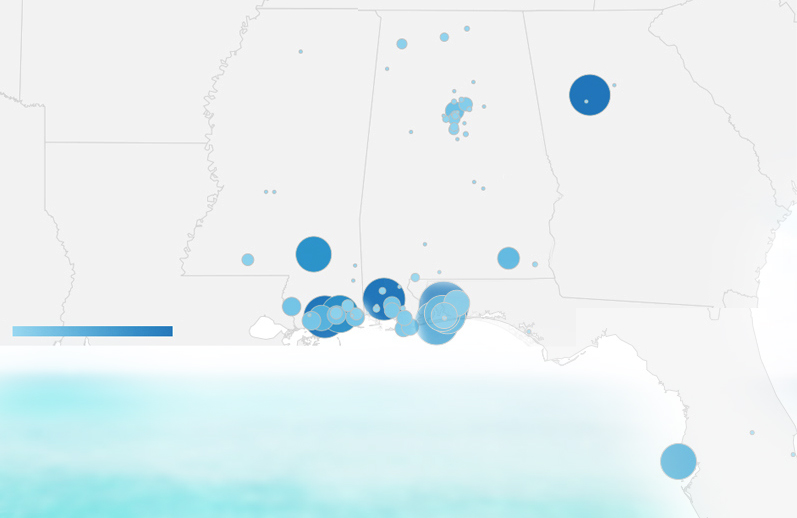 —
By identifying the level of support these dealerships receive from their national headquarters we are able to identify gaps in their advertising strategy and move forward to develop a custom solution that best supports their marketing efforts. The success of these campaigns develops from working beside the client to understanding on a deeper level where their true pain points occur and how we can partner with them to deliver the solutions that matter the most to their overall goals.
And the best part? We are just getting started.
al_marketing
https://www.amgrecruitment.com/wp-content/uploads/2023/01/AMG_recruitment_reverse-300x136.png
al_marketing
2014-07-29 16:00:31
2016-01-25 16:19:56
Take it to the (Marine)Max! (Why Dealers Need Local Focus Too)